One click booking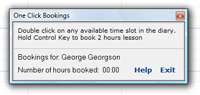 Press Ctrl+B, the One Click Bookings page appears in the top-right corner of the screen. The mouse cursor will change to 01:00, indicating that if you double click on an available time slot, a lesson will be booked with the default values. Hold Ctrl key to book a 2 hour lesson.
It is a very flexible tool when a pupil wants to book a series of random dates. When a pupil books lessons on the same day each week, it is easier to use Block bookings.
One Click Test
Hold Ctrl key and then right click on available time slot. A list of test centres appears, choose test centre and choose starting time. A practical driving test will be inserted in the diary with the calculated fee and pickup time.
Block Bookings
Double click on any available time slot. Block Booking page appears with the selected pupil, course, date and time. The lessons will be booked into the current diary of the selected instructor.

To select another instructor or pupil, click on the corresponding box.
If you want to book more than one lesson then scroll the number in the Lessons box (see 3 ways to use scroll control). If you select one or more days of the week, the dates are calculated so they would fall into the chosen days – eg. every Monday and Thursday.
The fee is calculated according to the lesson's duration and the pupil's rate that is shown in the top right corner, which you can change at any time just by clicking on the label above them.
If the lesson is an exception, do not change the rates but, when the lesson is booked, alter the fee in the Edit Lesson dialog box.
Drag & Drop
Click and hold a pupil from the Filter List then drag onto the diary and drop. A lesson with default values for the pupil will be inserted. To book a 2 hour lesson, hold Ctrl key before dropping

You can move lessons around just by dragging them to the desired time slot.