One click booking
Position the diary cursor on the date you would like to book the driving test and press either Ctrl+Q
or
Hold Ctrl key and click the right mouse button on any available time slot.
A popup menu will appear on the screen with the list of available Test Centres which you can add or remove in Edit Test Centres page.
Place the cursor over test centre name to open the timetable list and click on the test time.
The test will booked for the pupil shown in the Pupil Selection Bar or the Filter List if visible. The test is calculated according to the default values – which you can edit in Default test values dialog box – adding an hour or two before the actual test along with calculated fee.
Book Driving Test Page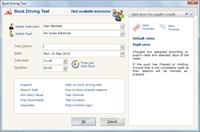 From the main menu – Bookings – select Book a Test or press Ctrl+T. The page will appear with the date and time set to the cursor position on the diary. Click arrow button to drop the list of driving test centres.
To select the time of the test, you can either:
Click time list label, to see the timetable for the chosen test centre
Scroll the time
Right click on the scroll button to drop the time list
Type the time directly into the box
see also (3 ways to use scroll control)