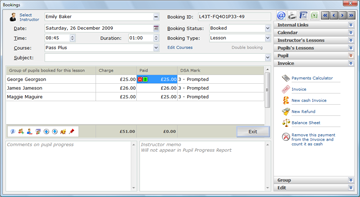 Booking page is a central point and has everything you need to manage lessons and pupils.
At a glance you can see how many lessons the selected pupil (or instructor) has had in the past and will have in the future, manage Progress Report, manage Invoices, see which dates are booked for the entire month and even send e-mails.
Clicking on one of grey bars on the right side of the page, will open a set of available commands.
It is possible to enter more than one pupil for the same lesson. For example: two PDIs in the car or a theory class. The fees for pupils will be added individually, taking into account whether it is a prepaid amount or cash, giving you a total at the bottom of the page.
Input fields
You can re-assign the instructor for a lesson at any time by clicking the icon

To change date, time or duration, please read How to use scroll control
When you change the course for the lesson, the list of subjects changes accordingly. You can set it up in the Edit Courses and Subjects page. Every course has its own colour, icon and abbreviation.
The list of pupils consists of:
The name of the pupil – you can reassign another pupil at any time. The charge is recalculated according to the pupil's rates.
Charge – assigned by default when the lesson is booked. The amount is not included in your Cash Flow
Paid (if cash) – enter the fee when you are paid by cash, otherwise leave it blank. An little icon will appear in the box indicating that this lesson is prepaid. read more...
DSA Mark – Driving Standards Agency marks. This is included in Pupil's Progress Report
You can scroll the lessons by clicking on one of the four arrows at the top of the form, which correspond to F5, F6, F7 and F8 keys.
To print or export this page, click on one of the buttons




See also